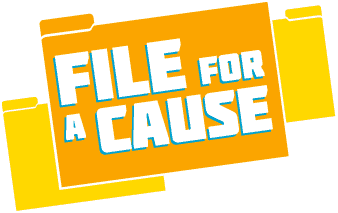 Do you prefer to file your own taxes online?  If so, please consider File for a Cause and when you do a portion of the filing fee will directly go to support a local organization – Excentia.  File for a Cause utilizes a very easy to navigate, user friendly, and most importantly – secure, online filing system.  To learn more, please check out our website and remember, ITP Taxes LLC is available to help answer any questions you have – even if you are filing online.
In 2018, File For A Cause will be supporting Excentia for a second straight year.  Who benefits from a portion of your tax filing fee?  Excentia is a local non-profit organization providing services to help empower individuals with developmental needs in our area.  Services are available for everyone from childhood through adulthood, to be utilized as long as necessary.  Therapy and education are provided to help each person live, thrive, and grow to their fullest potential.  Excentia values human dignity and with File for a Cause donations, you can help support them in their mission!
"File for a Cause was a great way for my husband and me to feel good about filing our taxes.  We know that if we run into a question we can ask Dave for clarification and that is very reassuring. Plus, we are part of a whole group of other philanthropic-minded people who are giving back to Excentia's programs.  I would recommend the program to anyone who is considering filing taxes online." – Megan Lefever Titter
If you have any questions regarding File for a Cause, we encourage you to reach out to us here.